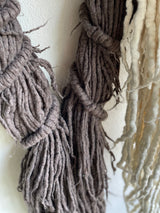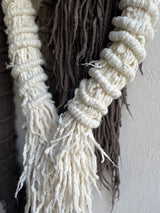 Jacqui Fink
Jac Fink Original Naturals Series: VII
Dramatic in scale and meticulous in its construction, this bi-colour piece required immense time input and intricate placement of materials and stitches.
The Naturals Series is my latest collection of ready made original textile artworks made from hand knitted and felted luxury naturally coloured merino wools from Australia and New Zealand. Each piece has been created on a scale to suit luxurious interior spaces and is of my original design and concept. A Jac Fink Original is unique in its expression with my hallmark combination of scale and intricacy and textures with mesmerising repetition.
There is nothing "off the shelf" about a Jac Fink Original. The finished materials, textures and patterns found in each piece are not sourced: they are handmade by Jacqui using high quality wools and techniques honed over ten years of a dedicated creative practice. 
Due to the special qualities of felted merino wool, maintenance of your Jac Fink Original is minimal and straight forward.

Please read the full listing for guidance with regards to installation and the specific weight of your Jac Fink Original. The purchase price of your Jac Fink Original includes custom made powder coated brackets to allow for the hanging of your piece.
My Christmas Gift to You
Your beautiful piece comes with a signed copy of "Perfect Imperfect. The beauty of accident, age & patina" by my very clever and dear friend Karen McCartney. I have chosen "Perfect Imperfect" as my Christmas gift to you not only because of its beauty. This book bought together three other creatives that have played a very meaningful role in my own creative journey: my dear friend Tracy Lines ( Creative Director & Designer), Glen Proebstel (Interior Stylist) and Sharyn Cairns (Photographer). 
Further, as this is a substantial piece, domestic and international shipping is free of charge.
Merry Christmas // Happy Holidays xoxox

If you would like to commission a Jac Fink Original similar to this but in dimensions to suit your space, please email Jacqui Fink for more information.
Composition:
100% felted merino wools
Dimensions:
Hanging rod is made from painted timber dowel 20mm in diameter, 100cm in length.
Artwork measures approximately 100cm wide x 250cm high 
Weight:
The artwork weighs approximately 8kgs
Maintenance:
Your Jac Fink Original is low in maintenance due to the robust nature of the felted woollen top.  
Pure wool is a naturally fire retardant material. 
If required, spot clean any affected area by simply applying a small amount of wool wash on a smooth damp cloth and dab affected area until clean. Avoid rubbing the area as friction may cause pilling.  Pat the area dry.
For any accidental liquid spills, such as red wine or coffee, the quick and generous application of soda water is effective. Use a smooth cloth to pat dry.
Light soiling can be removed by gently and lightly scratching the area with your fingernail.
Gently brush vacuum the artwork if required to prevent the build up of dust and dirt as both may, if not managed, discolour the wool overtime. The frequency of brush vacuuming  will ultimately be governed by the environment in which the artwork is hung.
Installation:
The Artwork can be hung from the ceiling or attached to a wall, subject to the load bearing capability of either area being appropriate.
Please check the load bearing capacity of the relevant area before hanging the Artwork. Installation, and the safety of it, is the responsibility of the customer.
Your Jac Fink Original is three dimensional and highly textural in design. As such, I recommend that the Artwork be hung in a manner which allows it to hang away from the wall, as opposed to it resting flush against the wall. This will give the Artwork sufficient space to fall and rest naturally.
Custom made powder coated brackets will be supplied free of charge to assist with the hanging of your Artwork.