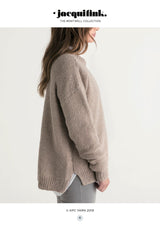 KPC + Jacqui Fink
Pattern: Ali and Oli Classic Crew Neck Sweater (Soul)
Ali and Oli are matching moss stitch crew neck sweaters, featuring neck trim detailing. Knitted in our luxuriously soft recycled cotton Donegal Blend.
The pattern includes both projects as a Mini Me and Mumma Set, so you can look impossibly adorable with your little one by your side.
The Pattern is a downloadable file written in English (UK), including a measurement chart.
You can buy the Ali or Oli kits here, where the pattern is provided free of charge.  Please read Kit listing for inclusions.
Fibre: 60% Recycled Cotton 20% Nylon 20% Linen Donegal
Skill Level: Intermediate
Sample colour shown here: Soul Aran Twill
Recommended Yarn:
Soul Aran from The #Knitwell Collection by KPC Yarn
60% Recycled Cotton 20% Nylon 20% Linen Donegal
640m per 400g cone ( 700 yards)
Selected colour x 1 / 1 / 2 / 2 / 3 / 3 cones
Tools:
- 5mm 60cm circular needles
- Stitch markers
- Stitch holder
- Large-eyed blunt tip sewing needle
Tension (10 x 10cm):
Moss stitch: 19 sts and 28 rows
1x1 Rib: 22 sts and 24 rows
Please test your tension before starting this project!
Skill Level:
Intermediate
Scroll down to view measurements for Mum
 S (MiniMe)
M

 (MiniMe)

L

 (MiniMe)

Chest

26cm
29cm

32cm

Hem width

26cm

29cm

32cm

Length (HPS) Front
40cm
42cm
44cm

Length (HPS) Back

44cm
46cm
48cm

Hem height

3cm

3cm

3cm

Armhole
12cm
13cm
14cm

Sleeve Length
36cm
36cm
36cm
Cuff opening
5cm
6cm
7cm

Cuff height

3cm
3cm
3cm
Neck width (seam to seam)
12cm
13cm
14cm
Neck rib
1.5cm

1.5cm

1.5cm

Front neck drop (HPS to seam)
8cm

8cm

8cm

Shoulder slope
3cm

3cm

3cm

Front Vent Depth
4cm
4cm
4cm
Back Vent Depth
8cm
8cm
8cm
 S (Mum)
M

 (Mum)

L

 (Mum)

Chest

56cm
62cm

68cm

Hem width

56

cm

62cm

68cm

Length (HPS) Front
58cm
58cm
58cm

Length (HPS) Back

64cm
64cm
64cm

Hem height

7cm

7cm

7cm

Armhole
20cm
23cm
26cm

Sleeve Length
48cm
43cm
38cm
Cuff opening
8.5cm
9cm
9.5cm

Cuff height

7cm
7cm
7cm
Neck width (seam to seam)
23cm
23cm
23cm
Neck rib
3cm

3cm

3cm

Front neck drop (HPS to seam)
9.5cm

9.5cm

9.5cm

Shoulder slope
5.5cm

5.5cm

5.5cm

Front Vent Depth
6cm
6cm
6cm
Back Vent Depth
10cm
10cm
10cm